Fractures of the proximal humerus account for approximately 5% of all fractures, while fractures of the clavicle account for 2.6-4% of adult fractures and 35% of injuries to shoulder girdle.
Non-operative treatment maybe the main stay in treatment for both disorders; however certain patients may benefit from surgical intervention. Proximal humerus fractures that require surgery may be fixed or undergo what is called open reduction internal fixation (ORIF) if the fracture pattern and patient factors are favorable.  This means that the fracture will be reduced anatomically and plate and screws will hold the broken fragments together.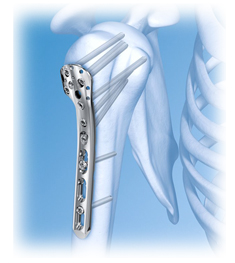 Occasionally, if the humeral head is damaged, a humeral head replacement will need to be performed, and in rarer cases (the elderly especially) a reverse shoulder arthroplasty may need to be performed for the fracture. Clavicle fractures may also require surgery, however the decision making process is not always straight forward as the patient may be trading a bump (the bones healing not in place from non-operative management) for an incision (operation; to fix the fragments anatomically).  However, recent evidence points to superior shoulder function in a subset of these patients.